This support guide is intended to give an overview of the savegame system works, information about saving offline, how to manually or automatically backup your savegame, how you can send your savegame files to support, and how you can troubleshoot saving problems.
This article contains: (use

🔺

to return to this list)
1. How does the saving system work in the game?
The game is designed to save at several points. A hexagon icon will be displayed whenever the game does so. If you would like to exit the game and you are unsure whether your latest progress has been saved, the easiest way is to fast travel to a safe house. In any case, you will always respawn at the last visited safe house.
There are numerous safe houses on the map. Once a safe house has been 'unlocked', you are able to use it to respawn and fast travel. If your character dies during the game and no adrenaline shot is used to revive it, you will be able to choose any of the unlocked safe houses to respawn. You can then exit the game, if you wish, without losing any progress.
All your characters share the same world. When starting a new character, the story progress does not get reset and you spawn at the last checkpoint you visited with the last character. To completely reset and start over, you need to delete all your characters in character creation menu.
2. How is progress saved offline?
You can always save your progress offline on PC and XBox. If you purchased an early edition PS4 disk, you will need to update the game through PS4 network (you must have a PSN account). Once the game is fully updated, you should be able to save your progress even if you're playing offline. However, you will not be able to use cloud backup.
3. How to automatically backup my savegame file
Backing up enables you to take your saves to other devices and is highly recommended.
For PC, make sure Steam Cloud is enabled. You saved games will be backed up after you close the game as long as Steam is not in offline mode.

For PS4, PlayStation®Plus subscribers can enable auto-upload of game data to the PlayStation™Network server at the time of log out, such as when the system enters rest mode or turns off.

For XBOX ONE, saved games are automatically stored in the cloud when you leave the game as long as you're connected to Xbox Live.
4. How to manually backup your savegame files (PC/PlayStation)
Manually backing up your savegame is possible on PC and PlayStation. This is the safest option in case your savegame file is corrupted and the corrupted savegame file automatically gets backed up to the cloud by accident. The development team is actively working to minimize this from happening. Unfortunately, it's not currently possible to manually back them up on XBOX.
PC
Your save files are located in the following directory. Convert the 'Saves' Folder into a (zipped) folder as shown in the picture: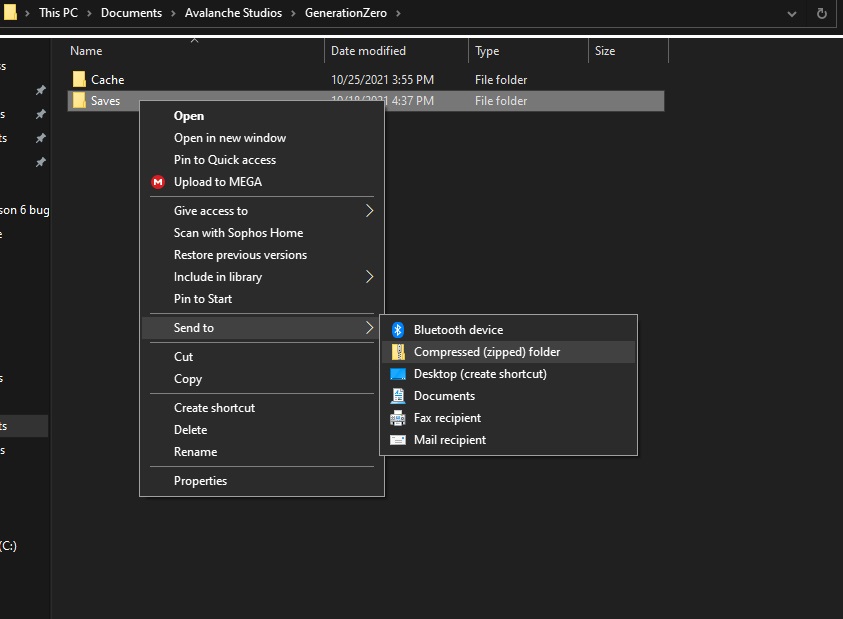 Submit a request attaching the zipped folder or simply include it in your reply to the support email.
Play Station
You can extract the save files from your console to a USB drive using these steps. Then, you need to plug the USB drive into a PC to access them.
If the files are too large, you can upload them to a cloud service such as google drive, making them accessible by the link. Otherwise, you can simply submit a request attaching the files or include them in your reply to the support email.
5. How can you send my savegame files to support?
To send your savegame files, you will need to manually back them up as mentioned in step four. We've created a support guide explaining the process and describing more in-depth the process here.
6. Having problems trying to save your game on PC?
There can be an issue where a player's Security Suite will block the game from being able to save the game to the PC. We've created an in-depth guide on how to resolve these issues that can be seen here.